PREVIEW our upcoming events for March of 2021….
The Taste Washington festival cannot happen as usual this year, but numerous wineries, restaurants, and hotels across the state are putting their best foot forward, creating unique ways to celebrate our special industry safely throughout the month of March. Fielding Hills Winery is no exception, we are partnering with some incredibly talented and passionate folks to bring you a wine, and an experience, worth sharing! Please read below and sign up for our newsletter for early access to our  monthly and weekly specials.
Monthlong Promotions (begin February 27th via our weekly email newsletter)
Week Long Promotions (begin each Saturday via our weekly email newsletter)
Promotions and associated discounts will "open" Saturday of the corresponding week and "close" the following Sunday, unless noted below.
Week 1: "Cabernet & Casserole" Promotion (Feb 27 – March 7)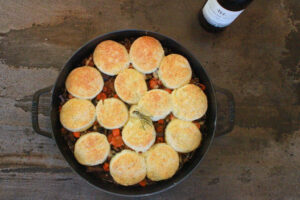 Don Elsing, Tasting Room Manager at Fielding Hills Winery, has partnered with Culinary Apple  in downtown Chelan and TM Ranch in Manson to bring you a delicious Beef Casserole with Le Gruyère AOP Herb Scones that makes our 2015 Cabernet Sauvignon shine! Don's step-by-step guide to his recipe includes a review of some of his must-have kitchen gadgets from our friends at Culinary Apple. In addition, a few helpful trick are below. For a shopping list and the full recipe, click the button.
Get the full recipe
Don's tips for his Beef Casserole with Le Gruyère AOP Herb Scones:
---
Week 2: "Chardonnay & Catch of the Day" Promotion (March 6-14)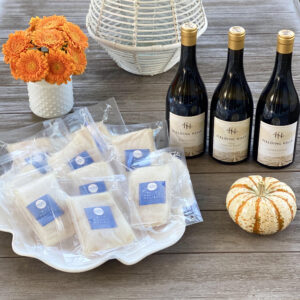 Premier Catch + Fielding Hills Bundles are back! Last October, we hosted a pop-up with the talented team at Premier Catch. You've been asking when they'd be back and now is your chance! With pop ups in both Chelan and Mercer Island you've got two locations to get your fresh caught fix. Be aware: you must preorder your bundle by March 10th to receive by the 12th or 13th!
When you are ordering your bundle place a note in the order dictating whether you prefer to pick up on 3/12/21 from 10am – 2pm at Eat Local/Performance Kitchen Crafted (7635 SE 27th St, Mercer Island WA 98040) or at Fielding Hills Winery on 3/13/21 from 11am – 5pm.
---
Week 3: "Syrah & Barbecue" Promotion (March 13-21)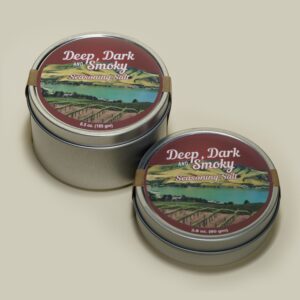 This week are introducing a bundle of Syrah and a secret seasoning salt from CheffyK. This salt includes FRESH garlic salt and a blend of three, dried chilis giving this chipotle-forward seasoning a mouthwatering, ultra savory, bacon-like aroma and mild, core-warming heat!
Our Syrah & Seasoning Bundle is available by clicking here. It features the following wines a free seasoning tin AND between March 15th – 21st will be discounted to our wine club membership. Join one of our wine clubs this month and start earning your standard discounts, bonus #TasteWA discounts, AND $10.00 gift card.
---
Week 4: "Red Blends & Family Recipes" Promotion (March 20-28)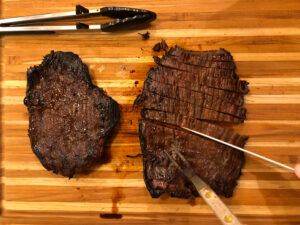 Our proprietary red blend, Tribute, pays homage to the namesake of Fielding Hills Winery, Isham Fielding Wade. During this week, founding winemaker and owners Mike and Karen Wade share a family recipe that pairs with our Tribute. The recipe is simple, easy to follow, and is near and dear to the Wade family. It has been passed down three generations from Ike's wife's kitchen.
Get the full recipe
---
Week 5: NEW WINE Release to ALL Wine Clubs (March 27 – April 3)
PLUS a huge bonus discount on newly released wine during the month of April
We encourage you to visit tastewashington.org, for more statewide information. If you're feeling extra social, please tag @fieldinghillswinery in your posts and sign up for our newsletter to receive early access to our monthlong and weekly specials.  Some other accounts with contests and activations worth tagging/following are:  @taste.washington, @visitseattle, @wa_state_wine