Winery & Winemaker
Owned and operated by Mike and Karen Wade, Fielding Hills Winery is the result of time-honored, small-lot, handcrafted winemaking techniques, which maintains Mike's desire to be closely connected from soil to glass with the wines of Fielding Hills.
Mike and Karen believe a glass of wine should take you on a journey, with one sip the story of its and its people unfolds.
Mike Wade ⎯ Winemaker
Mike Wade crushed the first vintage of Fielding Hills Winery in 2000. With his first vintage, Mike was named Rising Star winemaker of Washington State by Wine Spectator. Since then, for nearly two decades, the family-owned estate winery has earned a rock-solid reputation as a world-class wine producer.
The first vintage produced 400 cases; after two vintages Mike doubled that number to 800 in 2002. With continued consumer demand, Mike increased to 1,200 cases in 2011. Fall of 2013 saw the first Malbec crushed off of Riverbend Estate Vineyard. Crush in 2014 was at Fielding Hill's new winery and tasting room in Chelan Washington. At this new facility, production has again doubled with grapes crushed to produce 2,400+ cases. With the move to Chelan and an increase in production, Fielding Hills hired its first employee Assistant Winemaker Tyler Armour. Together, Mike and Tyler work to create a stand-alone product which reflects their passion.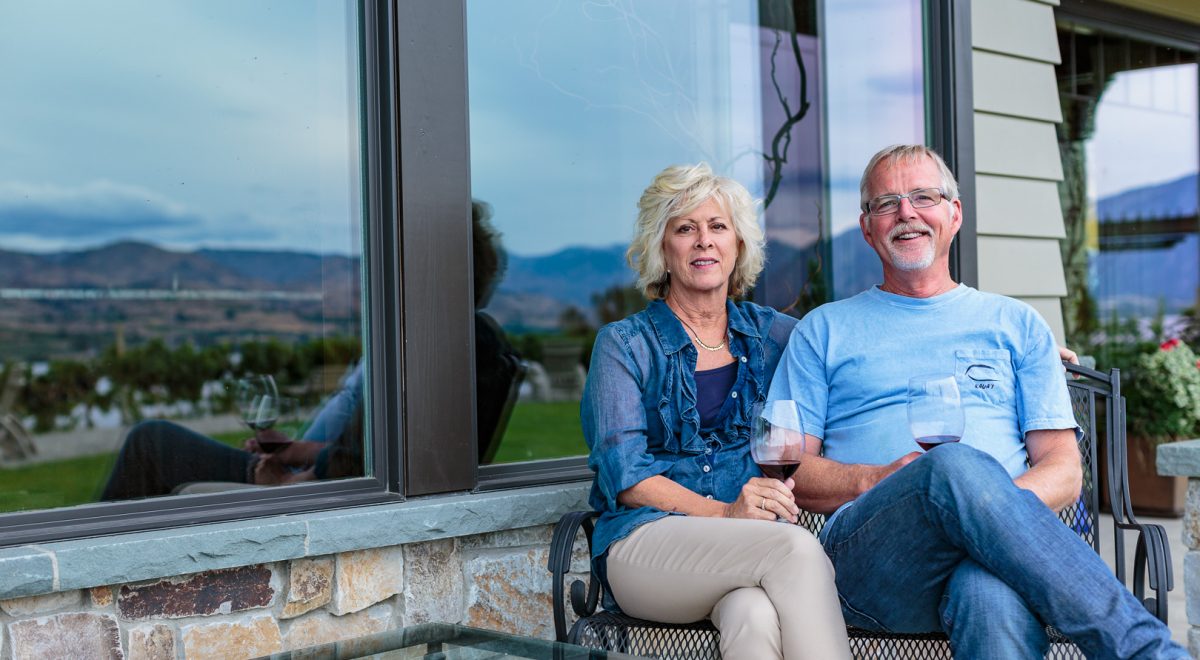 Mike and Karen Wade enjoying a glass of Fielding Hills wine
Mike's passion for winemaking and desire to be "hands on" means he is the winemaker, viticulturist, cellar master, and all other winemaking roles. He is guided by intuition and his palette while educated business and agriculture. He knew for many years he wanted to establish an estate winery and produce world class wine grown in family-owned vineyards. This process begins in the vineyard for Mike. He planted the best rootstock available in soil proven to produce great wine grapes. In the early days at Fielding Hills, he read, asked lots of questions, and took a course at UC Davis. His winemaking philosophy is to grow the best grapes possible then create the path where they can best express themselves.
---